The Public URL
Each SourceLair Project gets a Public URL mapped to its Web Server, so you can view the application you are building and share it with anyone you wish.
All Public URLs are in the form of randomprojectid.apps.lair.io.
Make sure to configure your project's Web Server in order to get your Public URL working.
Security
All Public URLs in SourceLair are HTTPS-enabled by default. You are free to use and share your Public URL in any protocol you wish though (HTTPS or HTTP). Both of them will work at any time.
Accessing my project's Public URL
You can access your project's Public URL in 3 different places:
the Command Palette
the Sidebar
the project's details
Via the Command Palette
Open the Command Palette and type in the following command to access your Web Server's Public URL.
| Command | Description |
| --- | --- |
| Web Server: Open Public URL | Opens your Web Server's Public URL in a new browser tab |
Via the Sidebar
Click on the eye icon in the sidebar, to open your project's Public URL in a new browser tab.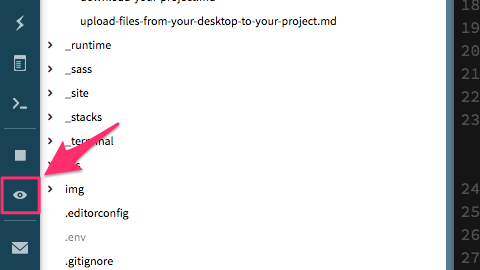 Project details
Open your project details and scroll down to the Public URL section to view the Public URL of your project. Click on the Public URL to open it in a new tab.